For those of you wanting to share some pictures with us and aren't sure how to do it, well I'll do a quick breakdown for you.


You can use any free (don't pay, there are plenty of free ones out there) photo uploading sites (I use www.Photobucket.com) and sign up with them if you haven't already.

Once you sign up, there will be a choice to 'upload' your picture. Basically, you are going to select a picture from your computer's files (most folks have them in their "My Pictures" folder) and save it onto that company's site. No personal information should go over to them, so you shouldn't have to worry about that. Then, the site will generate a 'code' for you to use. This 'code' can be copied from them and pasted right into your message.

For example, the code that is generated when I uploaded this file to Photobucket was this ....


Code:
[IMG]http://i60.photobucket.com/albums/h25/ArnyVee/DVC15.gif[IMG]

.....I copied it and pasted it here and got this....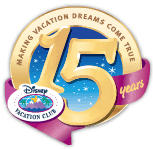 .....see, it's easy!
Now, go share some of your favorite Disney pictures with us!
Share A Picture Here --->
http://www.waltdisneyboards.com/photography-video/750-disney-picture-day.html