This is a quick how-to guide on adding videos from YouTube to our video directory.


First of all, you'd have to find a video on YouTube (or Metacafe/Sevenload/MyVideo) and then you'll find a "URL" (or web address) for that video file. Here's a screen print of an example of a video of Walt Disney and the Sherman Brothers that I added....





.....as you can see on the screenprint, I've boxed in the area where you should click and copy. With that "URL" copied, you can come back to the Walt Disney Boards video directory to add the video to the site. In order to do this, you can simply click on "Videos" on the blue navigation bar.....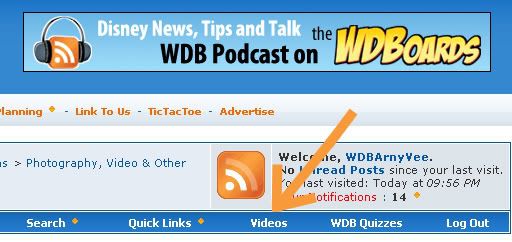 ......once you click on "Videos", you'll be taken to the Video Homepage. On the left hand side (see screenprint below) you'll see the categories section. Here's the screenprint....




.....at this point you can simply find the category that most fits the description of the video you're looking to add. In this example, I clicked on "Walt Disney" as this video is more about Walt, obviously. This takes you to the next page which is the category video detail page. On this page you'll see the link for adding a video....




.....once you click on "Add Video", you'll be taken to a screen that looks like a regular 'post' type of screen. Here is where you'll actually paste the "URL" of the video you found on YouTube. Here's where you paste the "URL"....





..... and after pasting the "URL" into the appropriate boxed area, then you can add the title of the video and a quick description of the video. Then, you click on the "send" or "add video" button at the bottom.

That's it....you've now added the video to our site for other WDBers and guests of Walt Disney Boards to enjoy!